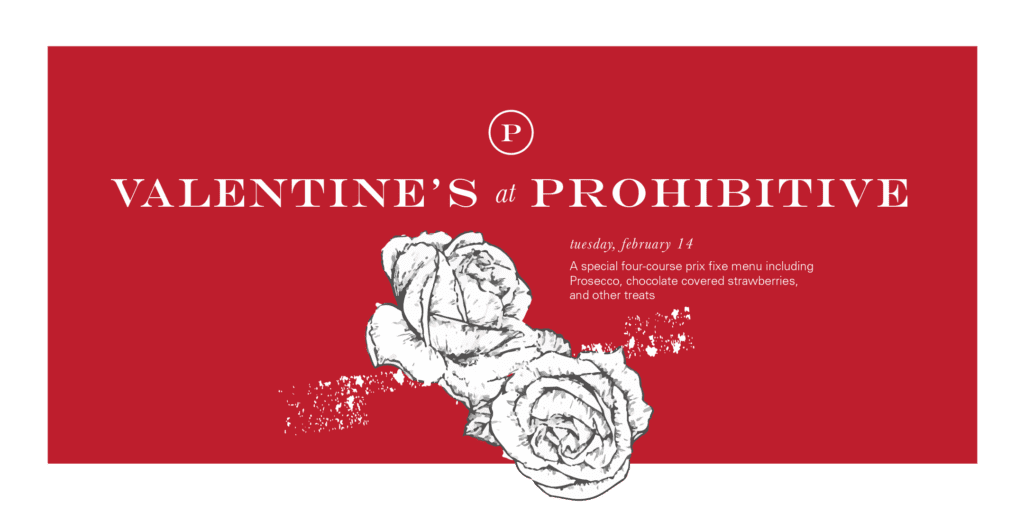 Celebrate Valentine's Day with a special 4-course prix fixe Menu with complimentary prosecco and chocolate covered strawberries.
$80 per guest.
Settle in for a romantic evening at Prohibitive, located with in The Matthews House in Downtown Cary. You will be greeted with a glass of Prosecco and taken to your table. A musican will entertain you as you enjoy a 4-course prix fixe menu. Our full cocktail bar will be available for you to purchase additional drinks.
Valentine's Menu:
Appetizers (one per table)
Arancini: deep fried rice balls stuffed with prosciutto and parmesan, served with romesco, shaved parmesan, and lemon zest (contains nuts)
Date Crostini: roasted garlic, date jam, and brie, drizzled with balsamic glaze and served on a toasted crostini (vegetarian)
Soup/Salad (each person picks one)
Broccoli Cheddar Soup: served with toasted crostini (vegetarian)
Pecan Salad: mixed greens, candied pecans, red onions, cucumber, gorgonzola, craisins, served with creamy apple cider vinaigrette (vegetarian/contains nuts)
Entrees (each person picks one)
Butternut Squash Lasagna:
roasted butternut squash layered with lasagna noodles, béchamel, spinach, ricotta, and cheese(vegetarian)
Crab Cakes with Cajun Shrimp:
placed upon a corn salsa, topped with a Cajun remoulade and served with mashed potatoes
Pork Tenderloin Roulade:
stuffed with dates, gorgonzola, sage, roasted garlic and crusted in brown sugar with a balsamic maple bourbon drizzle. Served with mashed potatoes and roasted tri-colored carrots.
Desserts (one per table)
Milk & Cookies:
chocolate chip cookie cake layered with milk mousse
Strawberry Filled Churros:
covered in powdered sugar and served with a strawberry whipped cream