Have Your Next Social Event At The Matthews House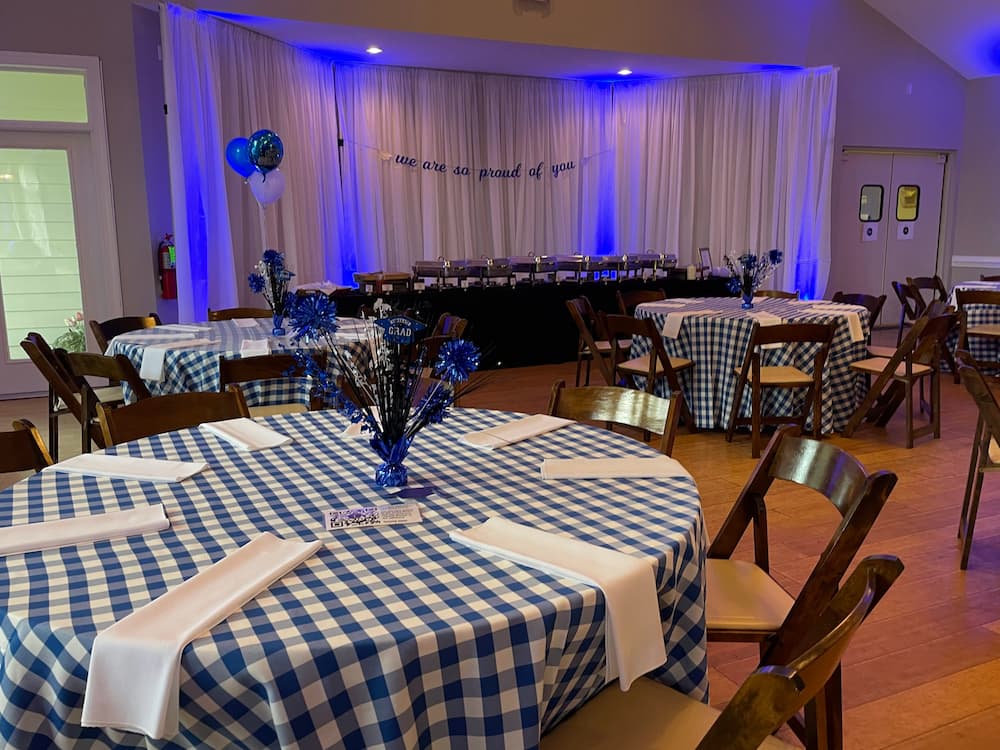 If you want the best venue for your next party, look no further than The Matthews House. Our family-friendly birthday party venue is conveniently located in the heart of Downtown Cary and offers a beautiful ambiance that is perfect for any special occasion.
From our picture-perfect setting to our excellent features and amenities, The Matthews House stands out as an ideal choice for any event in The Triangle area. Whether you're planning a milestone birthday party, a family reunion, or any other social event, we have everything you need to make it a success. Here are just some of the reasons why you should book us to help you create unforgettable memories:
Venue Versatility
The Matthews House is renowned for its versatility as a venue. No matter the event or occasion, we have the perfect space to host your friends and family. Our aesthetic indoor spaces are furnished and decorated to perfection to add a unique and gorgeous touch to any occasion. The Grand Ballroom is perfect for dancing, playing, and having fun.
Our outdoor gardens boast breathtaking natural beauty landscaped with elegant florals. The outdoor space also features large walnut and pecan trees for shade and a Grecian fountain for added charm, with benches for guests to relax and enjoy a drink or meal during the party. With both indoor and outdoor options, The Matthews House offers a variety of versatile spaces for hosting unforgettable events.
Amenities and Services
At The Matthews House, we understand that coordinating an event's different aspects can be overwhelming. That's why we offer a range of amenities and services to make the planning process as stress-free as possible. One of the key services we provide is working with reliable, local vendors to ensure your event runs smoothly.
Our in-house caterer, Southern Harvest Catering, is a professional service provider specializing in various fares, from casual to traditional, and can accommodate up to 160 guests. Additionally, you are welcome to bring in your preferred caterer if desired.
We also work with some of the industry's best DJs, photographers, event planners, florists, and makeup artists to ensure that every aspect of your event is taken care of. All of our vendors are carefully selected for their quality services, so you can be sure that your event will be a success.
Special Event Package
Want to make your wedding or event even more special? The Matthews House offers a special event package that will make it unforgettable. The package includes exclusive access to our stunning ballroom and picturesque grounds, allowing you to enjoy your event to the fullest.
In addition to the venue, our special package also includes an event attendant to assist you. Our coordinator will ensure that everything runs smoothly, from setting up the venue to welcoming guests - they will work with you to ensure your event is successful.
The package also includes tables and chairs, which we will set up for you and arrange in the perfect position. We also provide linens for the tables to add an element of sophistication to your event.
To make your event even more special, we can offer additional options such as beautiful floral arrangements, lighting effects, and other decor items. The Matthews House, one of the leading event venues, can supply everything you need to create the perfect ambiance for your special event.
Onsite Event Coordinators
At The Matthews House, we understand that coordinating an event can be a daunting task. That's why, as one of the most respected birthday party venues in the Raleigh area, we offer not just a beautiful venue but also onsite event coordinators to help with your party.
Our staff is dedicated to ensuring your event runs smoothly, and can help manage the venue on the day of your celebration. With the help of our onsite event coordinator, you can be sure that your event will be nothing short of extraordinary.
Make Your Next Party Unforgettable at The Matthews House
When it comes to hosting a memorable event, The Matthews House is a perfect choice. With a versatile venue, experienced event staff, and our onsite catering company, we can take care of all the details to make your birthday or social event unforgettable. We are known as one of the best venues in NC, and our team will work closely with you to plan the perfect event.
To learn more about how we can help make your next event unforgettable, call us at (919) 467-1944 or fill out this form to inquire about our venue and event planning services.