Have Your Rehearsal Dinner At The Matthews House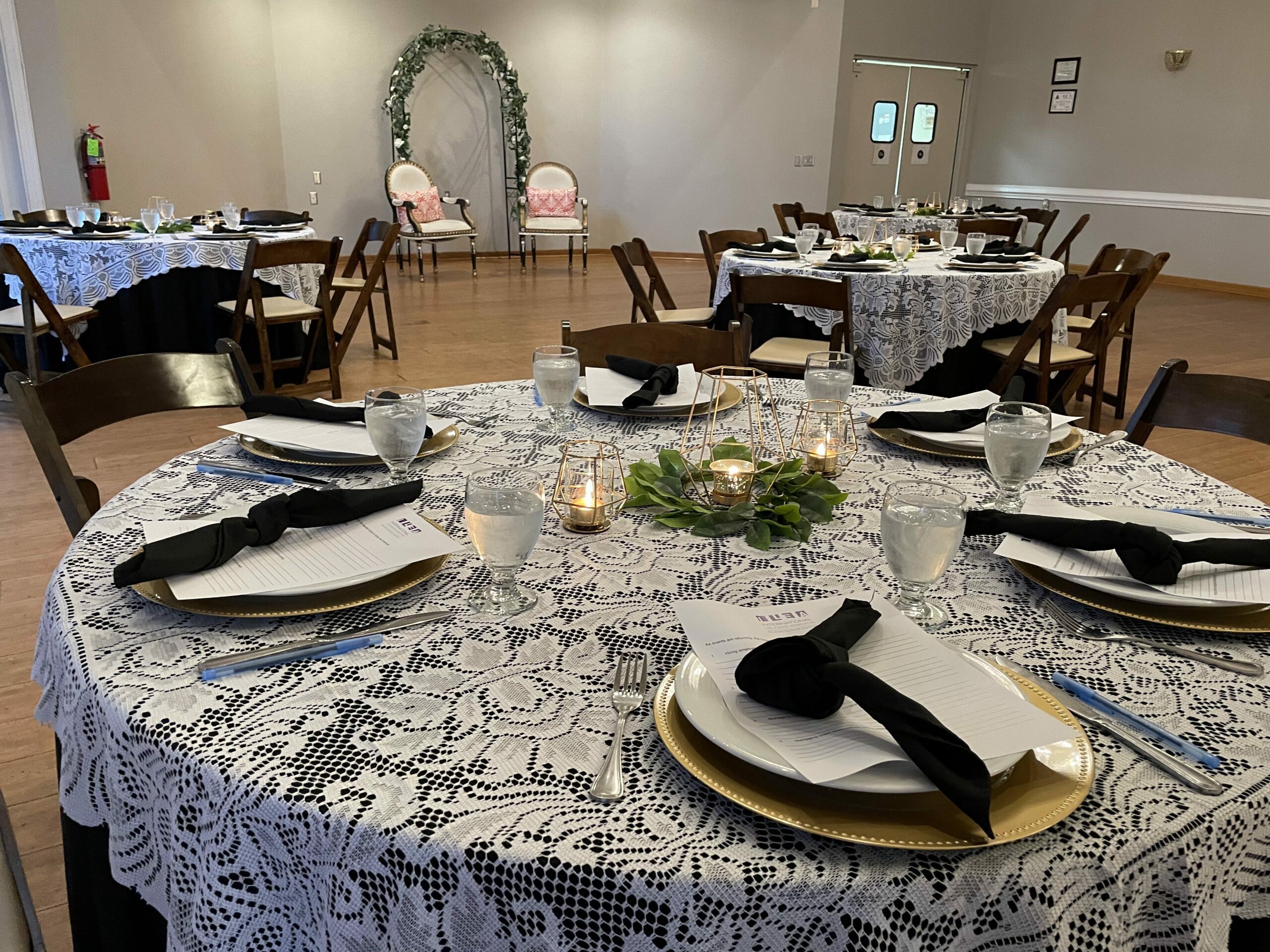 A rehearsal dinner is a special and memorable event before your wedding, and The Matthews House has the perfect setting for your event. With our garden oasis and stately house, our venue offers exceptional space and serenity to host your rehearsal dinner in Cary, NC. Our manor is nestled in the heart of downtown Cary to provide a picturesque backdrop for your rehearsal dinner. You can wander through the charming gardens, dance your heart out in the Grand Ballroom, or enjoy a cocktail as you explore our elegant and historic mansion. Whether you choose an outdoor or indoor event, you will have the time of your life in our exceptional space. We offer flexible and highly professional indoor/outdoor concierge services to make your rehearsal dinner effortlessly beautiful.
Rehearsal Dinner Package
Our rehearsal dinner package starts at $350 per hour and includes the following services.
Hours of Exclusive Access
During your special dinner, you can enjoy exclusive use of the Grand Ballroom, garden, and house for up to 12 hours. You can optimize your space of choice depending on your guests' needs, the weather, or personal preference.
Event Attendant
To help your dinner flow effortlessly, the staff here at The Matthews House will be on-site to help you navigate the venue and attend to any other needs regarding the facility during your special evening.
Tables and Chairs
Depending on the theme and nature of your rehearsal dinner, we have upgraded options available. We understand that you have enough planning duties on your plate for the wedding, so we will take care of the setup and breakdown of these items for you.
In-house Linens
The rehearsal dinner package also includes complimentary black linens for all the tables. However, we have upgraded linens that we can help coordinate and set up to match your dinner's aesthetic at an extra cost.
A/V Equipment
On request, A/V equipment is available. This includes a wireless mic for the Grand Ballroom PA, an amplified podium, an Epson projector with a screen, as well as high-speed wireless access.
Package Upgrades
We offer the following upgrades for your rehearsal dinner:
Linen upgrade
Inclusive overnight stay in our Bridal Suite with continental breakfast
Access to our in-house décor items
Our Guests' Needs Come First at The Matthews House
At The Matthews House, we are committed to offering a top-notch venue that is inclusive of our guest's desires. As such, you can bring your own pre-approved caterer or use Southern Harvest, our in-house partner. We also offer flexible options when it comes to hiring your vendors to cater to your specific needs. If you do plan to use outside vendors, please note they will need to adhere to some guidelines while operating within our venue.
Why Choose The Matthews House?
At The Matthews House, we offer a wide range of packages and upgrades to make your rehearsal dinner unique and effortless. You can enjoy exclusive access to our outdoor garden space and indoor Grand Ballroom alongside an event coordinator to help you get the most out of the venue. If you and your partygoers want to spend the night, we are conveniently located in downtown Cary where you can access secure on-site parking and excellent nearby lodging options.
Dine With Us Today
Are you looking to host an exceptional rehearsal dinner before your big wedding day? Look no further than The Matthews House. We are the perfect venue for wedding rehearsal dinners in the Raleigh-Durham area in North Carolina. We are committed to ensuring that you and your loved ones enjoy the beauty and serenity in our manor. Our outdoor space is perfect for capturing beautiful images to mark your special day, and our indoor space will let you sing and dance the night away. With our experienced in-house caterers, you are sure to enjoy a memorable meal and delicious cocktails. For more information, call us at (919) 467-1944 today.