Bar and Restaurant Hideaway in Downtown Cary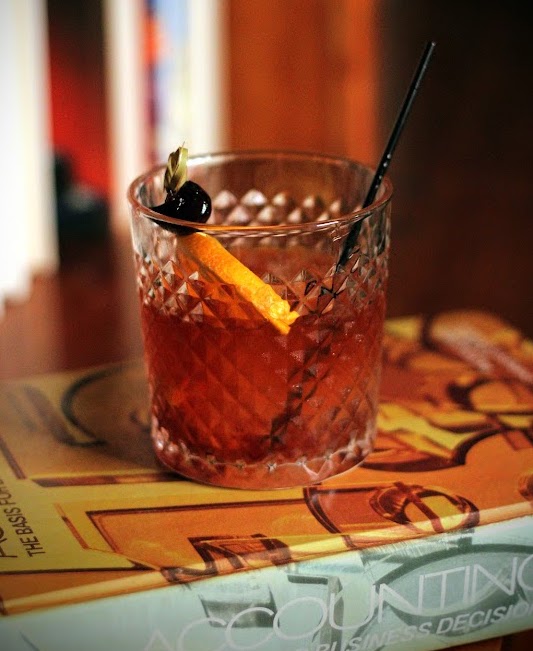 PROHIBITIVE is a new bar and restaurant hideaway in downtown Cary. Hosted by The Matthews House and Southern Harvest Hospitality Group, PROHIBITIVE serves classic cocktails, beer, wine, and share plates in the serene setting of a Southern manor and its manicured gardens.
The Matthews House continues to host weddings and special events, but also hosts PROHIBITIVE at limited hours: Wednesdays, Thursdays, and Fridays from 4pm until 10pm. PROHIBITIVE will also open for special pop-up concepts, which will be announced on social media. Look for our sign or check social media for all on-going information.
PROHIBITIVE started when The Matthews House co-owner, Sarah Chung, would unwind with a cocktail on the long, stately porch and wanted to share that experience. "It's a classic Southern house, so why not gather our neighbors to enjoy classic cocktails tucked away in this cozy atmosphere?" Chung asked. Coupled with share plates, PROHIBITIVE offers an opportunity for after-work gatherings or a night-cap after an evening enjoying other Downtown Cary offerings. PROHIBITIVE hopes to draw visitors to the West side of Chatham Street as Downtown Cary's nightlife expands. "PROHIBITIVE gives us the chance to be creative with food, drinks, and ambiance," adds Chef Mark Mishalanie.
PROHIBITIVE derives its name and concept from the days of Prohibition, when friends and neighbors met and shared foods while sneaking in a little "nip" now and again. Following the repeal of Prohibition, appetizer plates, craft cocktails and small dinner parties became the rage. PROHIBITIVE honors that movement and features some of those same cocktails and principles.
What We Are All About
Prohibitive Cocktail Bar is about good times, food, and drinks. To explain more about what you should expect from this top-notch bar experience, below are a few frequently asked questions.
When was the Prohibitive cocktail bar launched?
The idea to open this cocktail bar was imagined by Sarah Chung, The Matthews House co-owner, who thought it wise to share her cocktail experiences with the neighbors. Her vision came to fruition, and the cocktail bar was opened in September 2022, bringing locals and neighbors together to enjoy some drinks and small bites..
Where is Prohibitive cocktail bar located?
This classic cocktail bar is hosted in the heart of The Matthews House here in Downtown Cary, North Carolina. Guests are free to explore the manor, including the garden oasis and the ballroom, as they drink and laugh the night away. Our address is 317 W. Chatham Street, Cary, NC 27511.
What days and hours is it open?
Prohibitive is open to guests from Wednesday to Friday from 4 pm until 10 pm. However, the bar and restaurant will remain closed on days when The Matthews House is holding a private event. Check the sign in the parking lot, social media and our website for the most up-to-date hours and availability.
What exactly does Prohibitive serve?
The restaurant menu will be seasonal, but it currently entails delicious shareable plates that are sure to leave a lasting impression. You can also enjoy creative cocktails, beer, and wine at the bar.
Will there be other concepts besides the bar and restaurant at Prohibitive?
Yes! Prohibitive is looking to open special pop-up concepts, which we will communicate on our social media page. Check out our social media for information on discounts and new concepts.
Will The Matthews House still be hosting weddings?
Yes! The Matthews House will continue to host weddings during weekends. The Prohibitive Bar will operate from Wednesday to Friday, which will not coincide with weddings or other special events. If a private event happens, the Prohibitive will remain closed to give priority to the event. In such a case, we will notify people through our social media pages, so make sure to be on the lookout.
Come Enjoy Life the Prohibitive Way
Treat yourself and your friends to after-work greatness at Prohibitive in downtown Cary. Our appetizer plates, craft cocktails, and extensive wine list will help you relax and refresh for the day of work. Call us today to learn more about Prohibitive, or book your table with us.
Image Credit: Cody Gammon